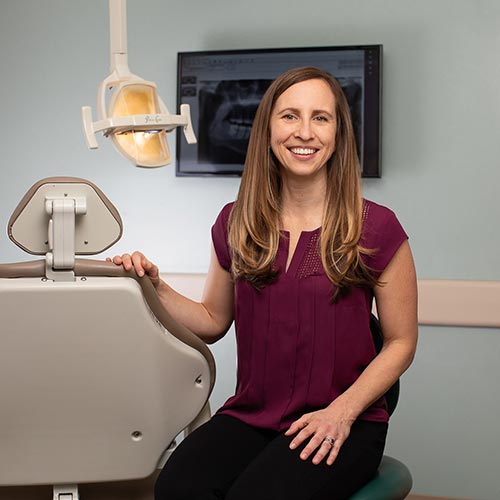 "As a dentist I love being able to restore a patient's function and confidence. My goal is to provide you with the most thorough and efficient dental care possible!"
Dr. Kuhn was born in Baltimore and spent most of her childhood in Carroll County, MD. She attended Virginia Tech (Go Hokies!) and graduated in 2009 with a bachelor's degree in Nutrition and Exercise. She then received her Doctor of Dental Surgery from University of Maryland School of Dentistry in 2013 and went on to complete a post-graduate general practice residency at Johns Hopkins Hospital in Baltimore, MD.
After her time at Hopkins, Dr. Kuhn and her husband lived in Austin, TX and then Boston, MA while her husband completed graduate school. Dr. Kuhn enjoyed the opportunity to work as an associate in dental offices in different parts of the country. In 2017 they returned to Maryland and joined Dr. Gallagher (her dad!).
Since returning to Maryland in 2017, Dr. Kuhn is thrilled to be providing dental care for the community in which she grew up. She enjoys helping patients achieve and maintain oral health and love their smile! Whether it is restoring a tooth with a cavity to make it look and function perfectly or providing dental implant solutions she is proud of helping her patients make the best dental choices for themselves and their families.
Dr. Kuhn is passionate about continuing her education so that she can provide the very best to her patients. She is an active member of the American Dental Association, Maryland State Dental Association, Carroll County Dental Society, Academy of General Dentistry, and is a certified Invisalign provider, Clear Correct provider and 6 Month Smiles provider. She is also an active member of the American Academy of Facial Esthetics and provides therapeutic and cosmetic Botox therapy to her patients.
When not helping people smile more, Dr. Kuhn loves to stay active! You can find her running the trails at Hashawha and Patapsco Valley State Park or sneaking in ski trips when she can. She also enjoys cooking, traveling, and reading (when she has the time!). She and her husband live with their 3 young children in Westminster.