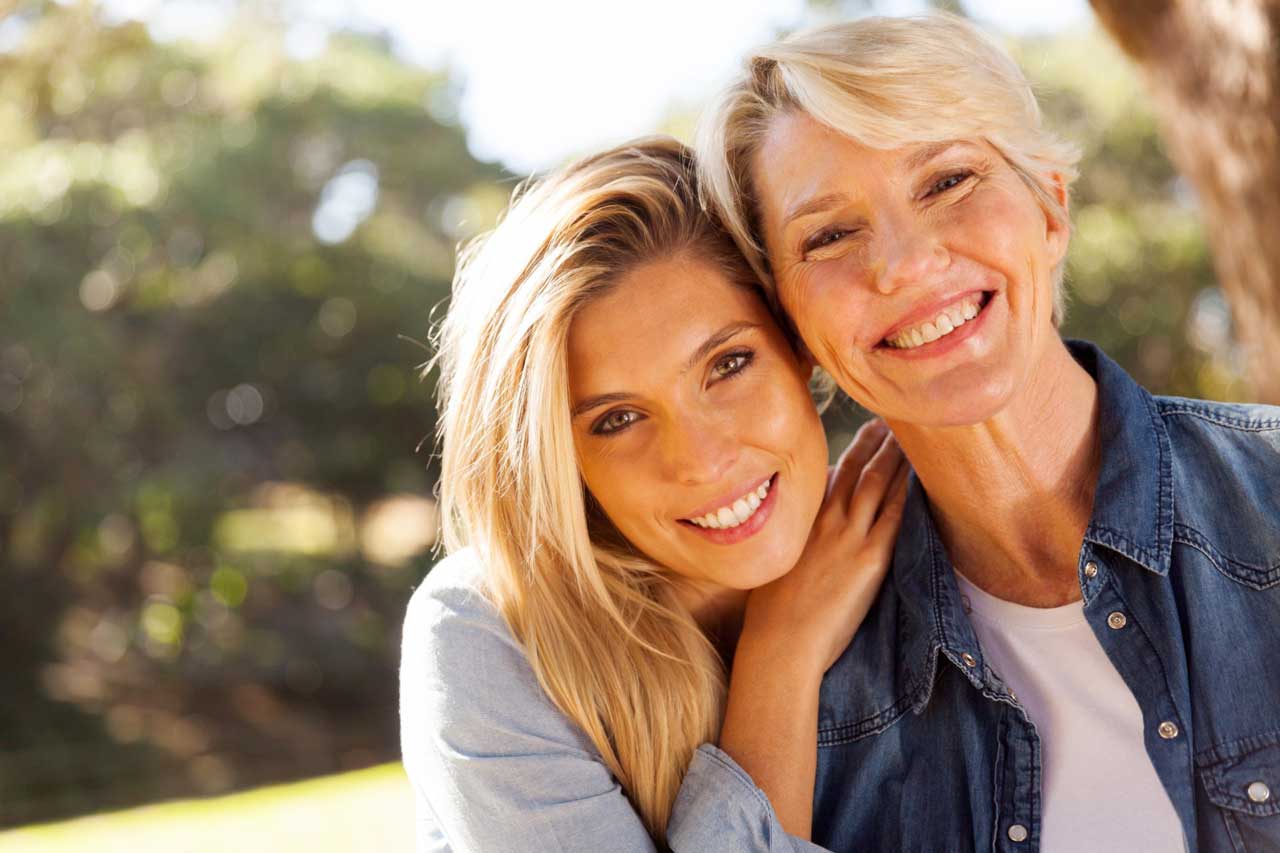 Dentures are dental appliances that are designed to replace missing teeth and surrounding gum tissue. They can be taken out of the mouth, they are not permanent. Dentures can be a solution for people who have lost some or all their natural teeth due to tooth decay, gum disease or injury.
Complete Dentures
Complete Dentures are used when all your natural teeth are missing. Conventional Complete Dentures are made and placed in your mouth after any remaining teeth are removed and your gums have healed. Healing, in general, usually takes several weeks before your mouth is stable enough to be able to wear dentures.
Immediate Complete Dentures are prepared in advance and placed immediately after your remaining teeth are removed. While immediate dentures offer the advantage of not having to go without teeth during the healing period, they may require more adjustments as your gums and bone continue to modify through the healing process.
Patrial Dentures are appliances that may be recommended if you still have some of your natural teeth. Patria I dentures consist of replacement teeth attached to a metal or acrylic base. They are designed to fill in the gaps created by missing teeth and are often held in place using clasps that hold on to your natural teeth.
It is important to note that while dentures can greatly improve your ability to chew, speak, and smile, they may not feel the same as your natural teeth. Nothing is better than your natural teeth. Over time, changes in your mouth's structure may require adjustments or relining of the dentures.
Also know that at least an annual recase visit is recommended to evaluate your oral health and fit and use of the dentures. A complimentary oral cancer and airway obstruction screening would also be performed.
Digital Dentures
Digital dentures are an advanced and innovative approach to creating dentures using modern technology. Instead of traditional methods that involve manual processes, digital dentures involve computer-aided design (CAD) and computer-aided manufacturing (CAM) techniques to design and fabricate dentures with a high level of precision and
customization.
How digital dentures work & their benefits
Digital Scanning: The process begins with a digital scan of your mouth. This involves using a special scanner that captures detailed 3D images of your oral structures, including your gums and any remaining teeth.
Computer-Aided Design (CAD): The scanned images are then used to create a digital model of your mouth. Using specialized software, your dentist can design the dentures to fit your mouth's unique shape, size, and contours. This digital design allows for precise customization, ensuring a comfortable and accurate fit.
Virtual Preview: With digital dentures, you and your dentist can view a virtual preview of what the dentures will look like before they are actually fabricated. This gives you the opportunity to provide feedback and make any desired adjustments to the appearance and fit of the dentures.
Computer-Aided Manufacturing (CAM): Once the design is finalized, the digital data is sent to a milling machine or 3D printer. These machines use the digital information to create the physical denture base and teeth. The materials used for digital dentures are often high-quality and durable, ensuring a natural appearance and long-lasting performance.
Accurate Fit: The precision of digital dentures helps achieve a more accurate and comfortable fit compared to traditional methods. This can reduce the need for multiple adjustments and enhance your overall experience.
Faster Turnaround: Digital dentures often have a quicker turnaround time compared to traditional dentures. The digital scan is quick to obtain, and adjustments to the design can be made digitally without the need for physical remakes. This can lead to shorter turnaround times and fewer visits to the dentist's office.
Customization and Aesthetics: Digital dentures can be tailored to your specific needs and preferences. The digital design allows for easy adjustments to tooth shape, size, and color, ensuring that the dentures look natural and complement your facial features.
Reduced Discomfort: Traditional denture fitting may involve messy impression materials that can sometimes cause discomfort or a gag reflex. Digital scans are non-invasive and more comfortable, making the process more pleasant for patients.
Archival Benefits: The digital scans of your mouth can be stored digitally, allowing for easy retrieval and replication of dentures if they need to be replaced in the future.
It's important to note that not all dental practices offer digital dentures, we do. We are able to discuss the benefits of digital dentures further and determine if they are a suitable choice for your specific dental needs.
Keep in mind that while digital dentures offer numerous advantages, the decision between traditional and digital dentures should be based on your individual preferences, oral health condition, our recommendation, and our mutual decision on what is best for you.
Implant Supported Dentures
Implant-supported dentures are a type of dental prosthetic that combines the stability of dental implants with the convenience of dentures. They are an excellent option for people who have lost a significant number of teeth and are looking for a more secure and comfortable solution than traditional removable dentures.
What Are Dental Implants?
Dental implants are small titanium posts that are threaded like screws and are surgically placed in your jawbone. They act as artificial tooth roots and provide a strong foundation for various dental restorations, including dentures.
Types of Implant-Supported Dentures
Bar-Retained Dentures: In this approach, a thin metal bar is attached to the dental
implants, and the denture is securely clipped onto the bar using special attachments.
Ball-Retained Dentures (Locator Attachments): Dental implants have ball-shaped attachments that fit into sockets on the denture, creating a secure and stable connection.
Screw-Retained Dentures: These dentures are screwed onto the dental implants for a firm hold. They may be permanent or removable by your dentist for maintenance.
Benefits of Implant-Supported Dentures
Stability: Dental implants provide a strong anchor, preventing dentures from slipping or
moving while talking or eating. This stability enhances your confidence and ability to
chew comfortably.
Comfort: Implant-supported dentures feel more like natural teeth and do not put pressure on the gums, which can alleviate discomfort often associated with traditional dentures.
Improved Chewing Efficiency: With better stability, you can chew a wider variety of foods, including tougher and crunchier options, without worrying about denture
movement.
Preserved Bone Health: Implants stimulate the jawbone, helping to prevent bone loss that can occur when teeth are missing. This maintains the integrity of your facial structure, preventing the look and feel of premature aging, the collapsed and scrunched look of the face.
Enhanced Speech: Unlike some traditional dentures, implant-supported dentures are less likely to affect your speech negatively.
Longevity: Implant-supported dentures are typically more durable and can last longer than traditional dentures with proper care.
The Process
Consultation and Treatment Planning: Your dentist will assess your oral health, review your medical history, and determine if you're a suitable candidate for implant-supported dentures. X-rays and scans may be taken to assess the jawbone's condition and plan the implant placement.
Implant Placement: Dental implants are surgically placed into the jawbone. Depending on your individual needs, a few implants are usually placed to support the denture. Over a few months, the implants will fuse with the jawbone.
Denture Fabrication: Once the implants have integrated, your dentist will take impressions and create custom dentures that will attach to the implants.
Attachment and Adjustment: The implant-supported dentures are attached to the implants using the chosen method (bar, ball, or screw). Your dentist will ensure proper fit and comfort.
Implant-supported dentures offer a stable and reliable solution for those seeking a more secure alternative to traditional dentures.