Dental Team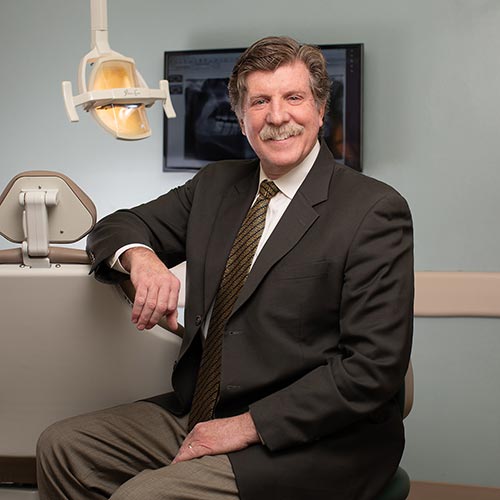 Patrick R. Gallagher III DDS
Dr. Gallagher grew up outside of Washington DC. His academic career began in Baltimore at Loyola University. He moved to Japan with his family where he attended Sophia University and completed his undergraduate degree at Villanova University. Throughout college he became fluent in Japanese and an accomplished rugby player. After a short career in business, he realized that dentistry was his true calling.

Dr. Gallagher has been providing dental care to the community for over 20 years. He has owned and operated a practice in the Westminster area since 2000 and is currently at his second location. He has been an active member of local rotary clubs, the American Dental Association, Maryland State Dental Association, and Carroll County Dental Society. He is also an active member of the American Academy of General Dentistry. He continues to stay on top of trends in Dentistry to provide quality and modern care to his patients and has completed a dental implant clerkship and is Invisalign certified. His patients say that he is especially talented when it comes to dentures and making anxious patients feel comfortable and at ease.

Dr. Gallagher is the cofounder of the Celtic Canter, a St Patrick's Day 5K in Westminster, MD each year in March. This event has grown into an IRISH FESTIVAL including games and activities around the town to raise funds for local community organizations. To learn more about the Celtic Canter, click here.

Dr. Gallagher resides in Hampstead with his wife Renee (a Speech Language Pathologist) and 2 dogs. They have 3 grown daughters (Dr. Kuhn is their eldest) and 4 grandchildren. He loves to travel, hike, brew beer, visit breweries and play guitar.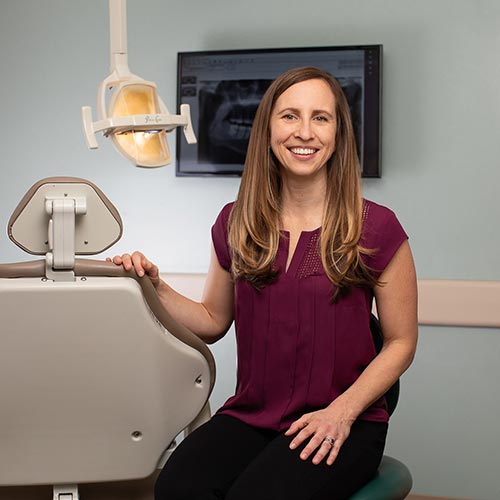 Caitlin Gallagher-Kuhn, DDS
"As a dentist I love being able to restore a patient's function and confidence. My goal is to provide you with the most thorough and efficient dental care possible!"

Dr. Kuhn was born in Baltimore and spent most of her childhood in Carroll County, MD. She attended Virginia Tech (Go Hokies!) and graduated in 2009 with a bachelor's degree in Nutrition and Exercise. She then received her Doctor of Dental Surgery from University of Maryland School of Dentistry in 2013 and went on to complete a post-graduate general practice residency at Johns Hopkins Hospital in Baltimore, MD.

After her time at Hopkins, Dr. Kuhn and her husband lived in Austin, TX and then Boston, MA while her husband completed graduate school. Dr. Kuhn enjoyed the opportunity to work as an associate in dental offices in different parts of the country. In 2017 they returned to Maryland and joined Dr. Gallagher (her dad!).

Since returning to Maryland in 2017, Dr. Kuhn is thrilled to be providing dental care for the community in which she grew up. She enjoys helping patients achieve and maintain oral health and love their smile! Whether it is restoring a tooth with a cavity to make it look and function perfectly or providing dental implant solutions she is proud of helping her patients make the best dental choices for themselves and their families.

Dr. Kuhn is passionate about continuing her education so that she can provide the very best to her patients. She is an active member of the American Dental Association, Maryland State Dental Association, Carroll County Dental Society, Academy of General Dentistry, and is a certified Invisalign provider, Clear Correct provider and 6 Month Smiles provider. She is also an active member of the American Academy of Facial Esthetics and provides therapeutic and cosmetic Botox therapy to her patients.

When not helping people smile more, Dr. Kuhn loves to stay active! You can find her running the trails at Hashawha and Patapsco Valley State Park or sneaking in ski trips when she can. She also enjoys cooking, traveling, and reading (when she has the time!). She and her husband live with their 3 young children in Westminster.
Dr. Justin Maxwell, DDS
Dr. Justin Maxwell is a Maryland native who grew up in Olney. He attended the University of Maryland at College Park where he played baseball from 2001 to 2005. He graduated Summa Cum Laude with a Bachelor of Science in Animal Science in 2005. Drafted as an outfielder by the Washington Nationals in the 4th round of the 2005 Major League Baseball Draft, Dr. Maxwell played professionally from 2006 to 2016. He played in the Major Leagues for the Washington Nationals, Houston Astros, Kansas City Royals, and San Francisco Giants. Dr. Maxwell finished his playing career in South Korea playing for the Lotte Giants in the Korean Baseball Organization. Transitioning into dentistry upon his acceptance to the University of Maryland School of Dentistry (UMSOD) in 2018, he graduated Summa Cum Laude as a Doctor of Dental Surgery in the Class of 2022. During his time at UMSOD, he was President of the Gamma Pi Delta Prosthodontic Honor Society and served as a member of the Student National Dental Association, American Student Dental Association, Alpha Omega International Student Society, Gorgas Odontological Honorary Society, and Omicron Kappa Upsilon National Dental Honor Society. Dr. Maxwell spent the final year of his dental education as a Diamond Scholar in the Advanced Education of General Dentistry Program at UMSOD.

Dr. Maxwell is happily married with 3 children and resides in Frederick County. He is a highly active volunteer in youth baseball and basketball having coached numerous highly competitive teams. He is also a sports broadcaster and has served as the color analyst for the Washington Nationals on the Mid-Atlantic Sports Network. He is extremely excited to be joining the Gallagher and Kuhn Dental Group and is looking forward to serving the Westminster community.
Brittany Bergeron, DDS
"My favorite part about being a dentist is being able to change the lives of my patients by improving their oral health and the beauty of their smile. I want my patients to feel educated, confident and healthy."

Dr. Bergeron was born in South Dakota but has lived all over the United States as her parents were in the military. She considers both Maine and Alaska to be her "home" states. Dr. Bergeron earned her Bachelor of Science degree in Chemistry from the College of the Holy Cross in 2008. She went on to complete her Doctor of Dental Surgery degree at the University of Maryland, School of Dentistry in 2013. Dr. Bergeron is one of three dentists in her family that all attended the University of Maryland. Her father and brother are also dentists, both specializing in oral and maxillofacial surgery.

Since graduating dental school Dr. Bergeron has been in private practice. In April of 2019 she purchased her own office in Towson, Maryland where she works a few days a week. She joined the Gallagher and Kuhn Dental Group in August of 2020 and has loved being a part of the team ever since!

Dr. Bergeron is highly active in organized dentistry and is currently serving as the Immediate Past President and Director of Corporate Relations for the American Association of Women Dentists. She is also an active member of the Maryland State Dental Association, American Dental Association, Academy of Facial Esthetics and Academy of General Dentistry. Dr. Bergeron is certified in Invisalign, Botox and dermal filler treatments. Through her numerous professional organizations, she maintains a high level of continuing education to provide the best care possible for her patients.

When she is not treating patients Dr. Bergeron has many hobbies including cooking, knitting, camping and spending time with her mastiff, Luna. Dr. Bergeron resides in Baltimore City.
The dental team at Gallagher & Eden Family Dentistry in Westminster wishes Dr. Eden a wonderful retirement.
Opening Hours
Monday:

8:00

AM

– 5

PM

Tuesday:

8:00

AM

– 6

PM

Wednesday:

8:00

AM

– 5

PM

Thursday:

8:00

AM

– 5

PM

Friday:

8:00

AM

– 2

PM

Saturday:

CLOSED

Sunday:

CLOSED
Our Office
Gallagher & Kuhn
Dental Group
715 Baltimore Blvd.
Westminster, MD 21157
410-857-5660