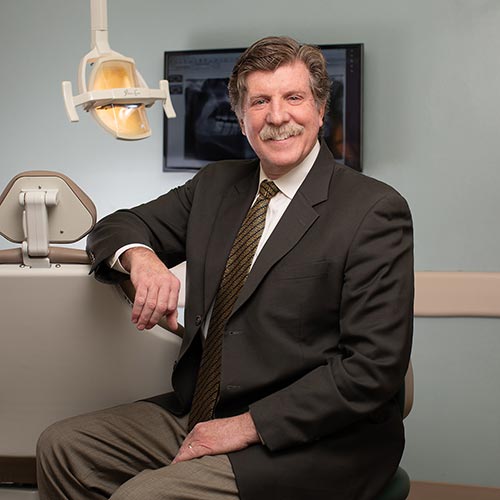 Dr. Gallagher grew up outside of Washington DC. His academic career began in Baltimore at Loyola University. He moved to Japan with his family where he attended Sophia University and completed his undergraduate degree at Villanova University. Throughout college he became fluent in Japanese and an accomplished rugby player. After a short career in business, he realized that dentistry was his true calling.
Dr. Gallagher has been providing dental care to the community for over 20 years. He has owned and operated a practice in the Westminster area since 2000 and is currently at his second location. He has been an active member of local rotary clubs, the American Dental Association, Maryland State Dental Association, and Carroll County Dental Society. He is also an active member of the American Academy of General Dentistry. He continues to stay on top of trends in Dentistry to provide quality and modern care to his patients and has completed a dental implant clerkship and is Invisalign certified. His patients say that he is especially talented when it comes to dentures and making anxious patients feel comfortable and at ease.
Dr. Gallagher is the cofounder of the Celtic Canter, a St Patrick's Day 5K in Westminster, MD each year in March. This event has grown into an IRISH FESTIVAL including games and activities around the town to raise funds for local community organizations. To learn more about the Celtic Canter, click here.
Dr. Gallagher resides in Hampstead with his wife Renee (a Speech Language Pathologist) and 2 dogs. They have 3 grown daughters (Dr. Kuhn is their eldest) and 4 grandchildren. He loves to travel, hike, brew beer, visit breweries and play guitar.